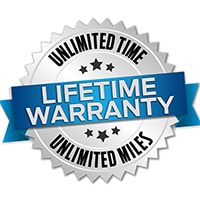 Peacock Ford's Lifetime Warranty
Unlimited Time. Unlimited Miles.
Can you imagine driving your new car, truck, or SUV and knowing that many of the major components in it were covered for the entire time you had it in your possession?  Does that kind of peace of mind sound appealing to you?  We know that many folks would love to hang onto their next vehicle for a long time.  It's no secret, however, that as a car ages, some people get worried that their vehicle will end up costing them a lot of money in auto repairs.  At Peacock Ford, located at 1875 S Orlando Avenue in Maitland, FL, we stand behind the cars we sell you.  One of the big ways we do that is with our free Lifetime Powertrain Warranty that comes with almost every vehicle that is on our lot.
What is Covered Under the Lifetime Powertrain Warranty?
First, when we say, "lifetime warranty," we really mean it.  We know that some folks have lifetime guarantees that come with a lot of mileage and time restrictions.  That is not the case with the Lifetime Powertrain Warranty at Peacock Ford.  When you buy a new or used car with us, the warranty will cover that vehicle for as long as you own it, no matter what the mileage.
Our Lifetime Powertrain Warranty covers some components in the major systems of your vehicle, like the engine, transmission, supercharger/turbocharger, and drive axle.  As many customers know, car repairs involving these systems in your car, truck, or SUV can cost you thousands of dollars.  With our program, our service team has got you covered.  Some of the components covered in these systems include:
Are There Any Costs in Association with the Peacock Lifetime Warranty?

It is understandable that some people may be wondering if there are costs associated with such amazing protection like the kind you get in the Peacock Lifetime Warranty. The good news is that this warranty comes on every qualifying vehicle at our dealership for free! It is completely complimentary.

Is There a Deductible?

When you have work done on your car, truck, or SUV, you will be required to pay a $100 deductible for any covered auto repairs or replacements.  When you consider $100 in the face of a car repair bill that could be thousands of dollars, it is easy to see why this coverage is so popular.  If you have a new Ford vehicle that is covered by this warranty, our program will pay any Ford required deductibles when it is underneath factory coverage.
What's Not Covered?
As always, there are exclusions to any warranty coverage.  However, with the Peacock Lifetime Warranty doesn't cover things that you wouldn't expect a warranty to cover, like routine maintenance and car accident repairs.  Some of the auto services not covered by the Lifetime Warranty include:
Oil Changes
Tire Rotations or Replacements
Auto Detailing or Reconditioning
Repairs or replacements to auto parts that are not in the powertrain systems, like brake pads, wiper blades, and headlights
What Do I Have to Do to Keep My Lifetime Warranty Active?
While the Lifetime Warranty at Peacock Ford is an amazing benefit, it does require you to make sure that you stay on top of all of your vehicle's recommended car maintenance.  You will also be required to keep track of these auto services.  This warranty protection doesn't cover auto repairs that happen because car service has been neglected on your vehicle.
Also, you can't keep your coverage active if you use the car, truck, or SUV for any commercial purposes.  The Lifetime Warranty only applies to vehicles that are being driven for personal use.  If you sell the car to someone else, the warranty can't be transferred.
Get in Touch with Peacock Ford
Peacock Ford, in Maitland, FL, is proud to stand behind our vehicles, and our customers.  Reach out to a member of our sales team to find out mor about our Lifetime Powertrain Warranty today.
Disclaimer
PowerTrain Coverage: For "Original Owners" (as defined below), the Lifetime Limited Powertrain Warranty begins upon expiration of the manufacturer's warranty and will continue to cover the following components during the time the original owner owns the vehicle and begins from the Original Date of Sale. It does not cover normal wear and tear, maintenance, or those items excluded elsewhere. The items covered by the Limited Powertrain Warranty include:
**In the Engine: Cylinder block, cylinder heads and all internally lubricated parts including pistons, piston rings, pins and cylinder sleeves; crankshaft, pulley, main bearings, caps and bolts; connecting rods, rod bearings, caps and bolts; camshaft(s), camshaft bearings, buttons and plugs; timing gears and timing chain or belt; rocker arms, rocker arm pivots, shafts and bushings; intake and exhaust valves, springs, guides, adjusters, retainers and seats; pushrods and lifters; intake manifold; exhaust manifolds; balance shaft; water pump; fuel pump; thermostat; oil pump, cover, gears, pressure relief valve and screen; rotor housing, rotors, shims and silent shaft; all internal fasteners, nuts and bolts; turbocharger/supercharger assembly including boost valve and waste gate; oil pan; valve, timing and side covers; thermostat housing; water pump pulley; engine mounts; harmonic balancer; flex plate/flywheel and ring gear; seals and gaskets.
**In the Transmission: Transmission/Transaxle case and all internally lubricated parts including ring and pinion gears; oil pump, cover, gears, housing and vanes; torque converter; valve body(s); throttle valve; valve pack; governor, gear switches; solenoids; bands; automatic transmission/transaxle clutch, drums, pistons and steel plates; planetary and sun gears; servos and rings; blockers; synchronizer hubs and keys; bearings; bushings; supports and shafts; control rings; yoke; extension housing; speedometer drive gears; accumulators and rings; adjusters; all internal fasteners, nuts and bolts; shift cover and forks; separate bell housing; oil pan; detent cable; kick down link; TVI/throttle cable; vacuum modulator; transmission mounts; transfer case and all internal parts contained within the transfer case; seals and gaskets. (STANDARD TRANSMISSION CLUTCH ASSEMBLIES AND ALL COMPONENT PARTS ARE NOT COVERED.)
**In the Drive Axle: Differential/axle housing(s) and all internally lubricated parts including the axle flange; ring and pinion gear/carrier assembly; spider gears and bearings; pins; retainers; positraction clutches, plates and springs; cover; constant velocity joints; slip joint; front wheel drive axles/half shafts and wheel bearings; u-joints; couplings; flex disc; prop shafts; center support bearings; seals and gaskets.
**Fluid Coverage: We will pay for replacement of necessary fluids, oils, greases, and lubricants that must be replaced in conjunction with a covered repair. This coverage does not apply to shop supplies.
See dealer for complete warranty details. A copy of the warranty is available to read prior to sale at the dealership. Commercial use, including being used for hire to public (i.e. taxi, delivery services), being used to transport people for hire (i.e. Uber, Lyft) or vehicles registered in a business name are excluded. Corvette, Hellcat, Demon, Honda GT Civic, Camaro ZL-1, Nissan GTR, and Genesis twin turbo G70 are excluded models.
Original Owner: An Original Owner is defined as the first retail purchaser who takes delivery of the new or used vehicle on its Original Date of Sale.
Excludes European pre-owned vehicles.
Please refer to Lifetime Powertrain Warranty contract for details.