The 2019 Ford Mustang vs. Dodge Challenger: it's one head-to-head matchup that sports car enthusiasts across Maitland, Orlando, and Winter Park have been looking forward to for a long time.
When the Challenger's retro style goes up against the Mustang's modern looks, which sports car comes out on top? In this car comparison, our team at Peacock Ford wants to help you decide. Read on and feed your need for speed!
Mustang vs Challenger: Exterior Features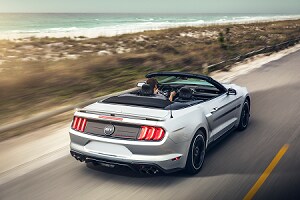 The 2019 Mustang and Challenger each have their own style about them, and there's no doubt that each pulls off what it sets out to do with poise and confidence. The Challenger goes old school with a hunkier design, vintage split LED taillamps, and those iconic round headlamps. It's a true muscle car.
The Mustang takes some inspiration from modern European luxury cars, incorporating a well-chiseled body, sleek lines, a lowered hood, and furrowed headlamps. The result? A unique blend of American and European character that helps this ride turn heads on the road.
From a practical standpoint, there are some advantages to the Mustang's style. Test drivers have found that it offers better visibility all around. If you're looking for a convertible, the Ford car alone offers that body style. The Dodge car, by contrast, comes as a hardtop coupe only.
Pony Car Performance Specs
Look under the hoods of the base Ford Mustang and Dodge Challenger, and you'll find some impressive engines. The Challenger boasts a standard V6 with 305 horsepower on tap, while the Mustang offers 310 horsepower from its standard EcoBoost® turbocharged 4-cylinder.
While both make solid daily drivers, you'll see a bit more efficiency from the Mustang. With its EcoBoost® engine, it can achieve an EPA-estimated 21 city and 32 highway MPG. The Challenger, on the other hand, maxes out with just 19 city and 30 highway MPG.
Test drivers have also found that the Mustang is more athletic, especially on high-speed roads. The Dodge Challenger, unfortunately, lacks agility on curvy roads and can't match the lively dynamics of the Mustang.
Interior Features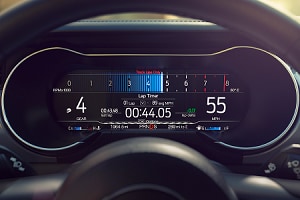 The 2019 Mustang and Challenger are well matched in terms of technology. Both offer heated and cooled seats, so you can get comfortable on chilly mornings or in the heat of the Florida summer. With push button start, you can forget the hassle of a key during your daily drive.
However, when it comes to build quality, the Mustang has a slight edge. While both vehicles offer spacious front seats, the Mustang is of a higher quality fit and finish, according to test drivers.
There's just enough nostalgia for the longtime Mustang fans (toggle switches and chrome air vents among them), but the overall function and feel are decidedly modern.
Ford Mustang vs Dodge Challenger: Which Will You Choose?
At Peacock Ford, we want to give shoppers across Maitland, Orlando, and Winter Park a close look at their options as they look for their next sports car. We hope you found this car comparison helpful.
So, which ride wins the 2019 Ford Mustang vs. Dodge Challenger faceoff? These cars are both impressive, but the Ford car stands out in some key ways. If you want to experience it for yourself, then schedule your test drive here at our dealership!