Sports car enthusiasts across Maitland, Orlando, and Winter Park are getting excited for the latest iterations of two classic American pony cars! In this 2019 Ford Mustang vs. Chevy Camaro comparison, we at Peacock Ford want to show you how they match up against each other.
If you're wondering which vehicle to choose, reading this article will give you a clearer idea of what features they each offer. Any questions? Just reach out to us for answers!
Mustang vs Camaro: Body Style & Design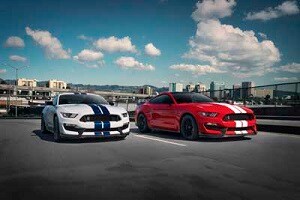 The Mustang and Camaro both come in hardtop and drop-top convertible versions. So, whether you want that "wind in your hair" exhilaration or the aerodynamics and sleek look of the hardtop, there's a version just for you.
There are plenty of vibrant color options for both vehicles: You can have your Mustang in Race Red or Orange Fury, and your Camaro can take on a few shades, such as Red Hot and Riverside Blue.
Keep in mind, though, that due to the Camaro's traditional muscle car proportions (namely, a high beltline and low roof), the windows are much smaller than those of the Mustang. This limits outward visibility in all directions and prevents much light from entering the cabin, so the Camaro interior can feel a bit dark.
Engine Specs: Your Pony Car Performance
Neither the Ford Mustang nor the Chevy Camaro feels underpowered, with a range of potent engines to pick from. Both used turbocharged 4-cylinder engines in their base trims. The Camaro's starts strong with 275 horsepower, but the Mustang's tops it with even more oomph-310 horsepower, to be exact.
Move up a few trim levels, and you'll find even more power available. These two cars' V8 engines are well matched: The Mustang's V8 offers 460 horsepower, while the Camaro's V8 is right on its tail with 455 horsepower. If you need even more power for the track, check out the Shelby Mustang and Camaro ZL1 for well over 600 horsepower!
Both rides come standard with rear-wheel drive (RWD) for a fun-to-drive experience, and handling is agile yet comfortable.
Cargo Space & Storage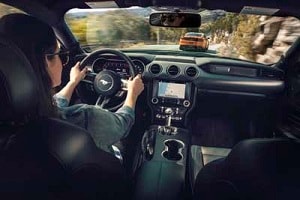 If you want a ride that's as practical as it is sporty, you'll want to consider the trunk space in the Mustang and Camaro. The Chevy car offers just 9.1 cubic feet in the coupe and 7.3 cubic feet in the convertible, so you won't have room for much more than a few grocery bags or a set of golf clubs.
In the Ford model, you'll find a bit more room to play with. With 13.5 cubic feet in the coupe and 11.4 cubic feet in the convertible, this trunk is quite large for the segment, and it can accommodate a couple of golf bags or some carry-on luggage for a weekend trip.
The Camaro trunk also suffers from a narrow opening and a high liftover height, making it a bit harder to load items. By contrast, the Mustang has a much wider trunk opening and a lower liftover height, so you can load up items a bit easier.
Ford Mustang vs Chevy Camaro: Choose Your Sports Car
So, which classic muscle car comes out on top in this Ford Mustang vs. Chevy Camaro comparison? Drivers across Maitland, Orlando, and Winter Park have a big decision ahead of them as they search for the ideal ride.
While both vehicles are truly iconic, if you value visibility, cargo space, and a more powerful base engine, the Mustang really brings a lot to the table. If you think you might agree, schedule a test drive at Peacock Ford and experience the Mustang from behind the wheel!