Full-size pickup trucks are capable of doing so much. There are quite a few pickups available in Maitland, Orlando, and Winter Park, offering drivers an outstanding experience every time they get behind the wheel. Peacock Ford is here to ensure you're informed of pickup options.
The 2018 Ford F-150 and Toyota Tundra are two of the most well-known trucks on the market today. In this vehicle comparison, we'll take a look at these two trucks and discuss topics most important to drivers: performance, towing, and interior amenities. We'll start things off by considering performance.
Power Matters: F-150 vs Tundra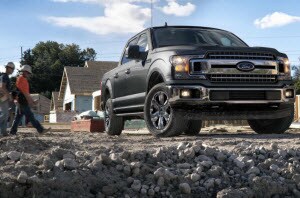 When it comes to engine power, the Ford F-150 offers something every driver can appreciate: choice. The 2018 edition of the F-150 comes with a powerful V6 engine, which produces 290 horsepower and 265 lb-ft of torque. Things expand from there to include a powerful 5.0L V8 engine, along with a 3.5L EcoBoost® V6 engine. Want better fuel economy? Choose the turbodiesel. Overall, there are six different engine choices.
The 2018 Toyota Tundra only has two different engine choices, and both are V8 options. The 4.6L V8 engine produces 310 horsepower, and the 5.7L V8 generates 381 horsepower. The F-150 offers up to 450 horsepower, eclipsing the capability of the Tundra.
Since the only option on the Tundra is a V8, that means the best possible fuel economy numbers are an EPA-estimated 15 MPG city/19 MPG highway. The base edition of the F-150 alone does better than that, at an EPA-estimated 19 MPG city/25 MPG highway. The turbodiesel F-150 option performs even better at the pump.
Towing Capability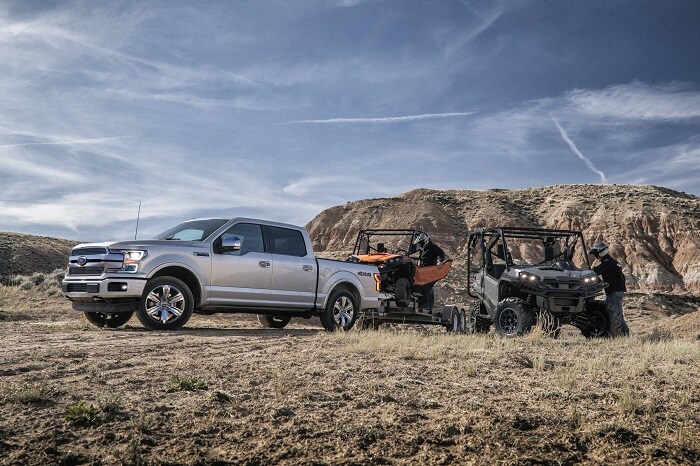 If you're buying a heavy-duty truck, there's a good chance you're expecting to be able to tow with it. The most powerful engine in the 2018 Ford F-150 is the 3.5L EcoBoost®, allowing drivers to tow up to 13,200 pounds with a max payload of 3,230 pounds. The base trim of the F-150 offers towing abilities of 7,700 pounds and hauling abilities of 1,990 pounds. The Tundra isn't able to match that in its base edition, with towing ability of up to 6,800 pounds and max payload of 1,600 pounds.
Overall, the F-150 can tow more, with the max towing ability of 13,200 pounds and payload of 3,230 pounds. The most powerful Tundra can only tow up to 10,200 pounds, with a payload capacity of 1,730 pounds.
Interior Amenities
Once inside these trucks, you'll see the F-150 has more space up front when compared to the 2018 Tundra. The second row is larger, too, with the F-150 carrying 40 inches of headroom to the Tundra's 39 inches of headroom. The F-150 also has more legroom.
When talking about tech, an 8-inch touchscreen with Ford SYNC® technology can be found in the F-150. It also has Apple CarPlay™ and Android Auto™ compatibility. The largest Tundra touchscreen is just seven inches, and there's no Apple CarPlay™ or Android Auto™ available.
2018 Ford F-150 vs Toyota Tundra: The Last Word
Throughout this comparison of the 2018 Ford F-150 and Toyota Tundra, we've done our best to tell you about each truck's performance, towing capability, and interior features.
The F-150 stands tall as a go-truck in this class. Visit Peacock Ford today for a test drive and see why so many Maitland, Orlando, and Winter Park drivers are already behind the wheel of this truck.